The comfort, warmth and lightness of bone china are the raison d'être of CSM Philippines, Inc. as it continues to delight patrons with its handmade high-quality home decor.
CSM's inspiring journey began in 1994 when Clemente S. Manrique Jr., an OFW, founded the company along with friends and family. Since then the enterprise has evolved into a world-class company selling home décor in United States, Europe, Australia, New Zealand, Japan and other parts of Asia, the Middle East, Carribean Islands, and Indian Ocean.
Striving to be a trendsetter and tastemaker, its fine products can be found in premier stores like Crate & Barrel, Aerin, and Maison & Objet, among many others. It has also been featured in prestigious publications like Elle Décor and Home and Garden.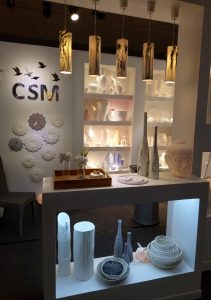 There's a bit of whimsy in its recent collection as themes range from yoga and burlesque to fruits and pods. Described as delicate and incomparable, CSM products are also marked by its artistic flair especially since each piece is handmade and therefore given careful attention throughout its creative process. In its list of inspired offers are hand-crafted vases, candle holders, lamps, planters, figurines, bowls, bathroom sets, Christmas ornaments, oil burners, potpourri containers, and home ware, gifts, and novelties.
CSM Philippines, Inc. is located in Biñan, Laguna.