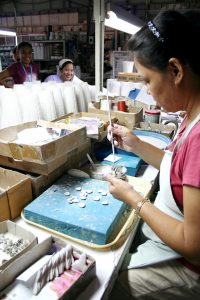 It is CSM's mission to create exquisite objects made of Fine Bone china and Fine Porcelain, that charm the beholder and delight his senses.
In the midst of global competition, we have committed ourselves to maintaining a high degree of quality, service, and craftsmanship. Parallel to this commitment, is our desire to make known to the world the Filipino talent & skill.
Since everything is tediously and meticulously made by hand, CSM Philippines believes in investing in the company's greatest asset, the people. Operating in a people-oriented environment, almost 100 craftsmen are treated not like workers but family, being trained and guided towards sustainable financial independence.